Judy Cloud, 49, shows the scars of her skin cancer from too much sunbathing Credit: Judy Cloud/Facebook
A woman who has suffered from skin cancer for 20 years has shared graphic selfies in a bid to warn people off using sunbeds.
In a Facebook post that has been shared more than 63,000 times, the 49-year-old mother of two says the cancers are the result of using sunbeds and staying out in the sun too long when she was younger.
Since her first diagnosis in 1995, Cloud, a legal assistant in Indianapolis, Indiana, has undergone four surgeries.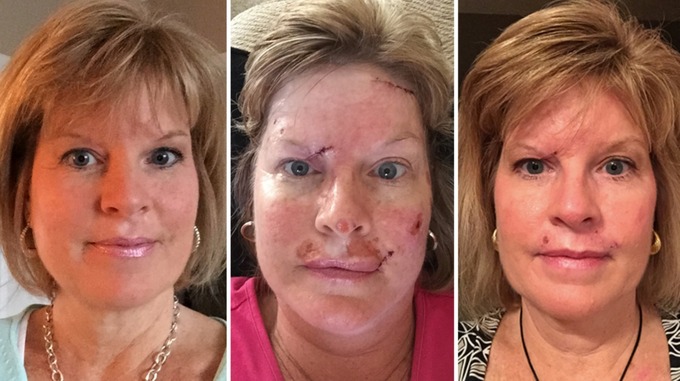 The most recent in September was an invasive three-hour operation to remove 23 cancer spots from her face, chest, arms and legs.
As well as her pictures, she gives a detailed insight into the unseen consequence of the operations, such as not being able to chew properly, numbness, nerve damage and scars.
"I'm really hoping the thought of going to a tanning bed no longer sounds quite so attractive to you," she concludes in her Facebook post.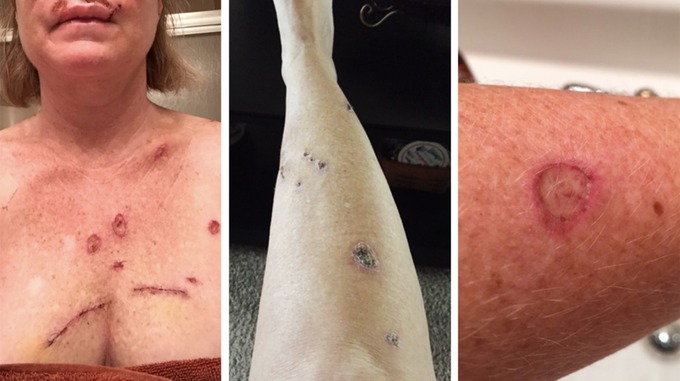 Speaking to Self magazine she said that while her younger self would never share the stark pictures, her most recent surgery prompted her to document her illness in a public album.
"I'm old enough now to know this is needed," she said.
Cloud told the magazine she is "lucky" because most of her cancer is basal cell carcinoma – the most common form.
"It's not melanoma," she said. "But it could have been. And I don't want to take the chance of having melanoma. This is a hard enough battle fighting this."
If you like this amazing story then please SHARE it with your friends!
For the best program to lose weight check out this video For the best program to lose weight check out this video Here!:    Over 95% of women who used this method lost 9 Lbs in the first 5 days.  Click Here!                              Please try it out  Here!