This was meant to be a day of fun, music, and dancing, but, of course, every party has its party pooper.
Big beach balls were being thrown around while the music blaring, as beach balls often do during outdoor concerts.
However instead of volleying them away to the next eager recipient, one mother seemed to have enough.
A fellow concert-goer and mother named Lexie Landry Stygar took out her cell phone as this angry woman began ripping into the beach balls with her bare hands.
She then dropped them to the ground, where they were left, deflated and sad.
Lexie said many parents asked her to please stop popping the beach balls and just let the children continue having fun, but she wouldn't.
Lexie went home and posted the video of the woman (quickly dubbed a "party pooper" by the internet) to show her appearing argumentative and popping several balls as her young son sat beside her.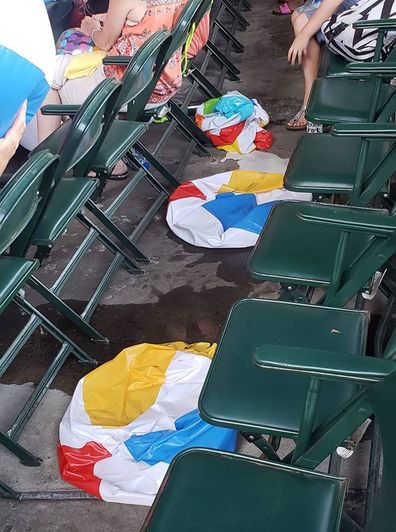 The video went viral after receiving over 1 million views on Facebook. "My hope is if she's found that that little boy is able to go to another concert without her and actually have fun!" Lexie wrote.
Have a look at the video below to see:
If you were moved by this touching story then please SHARE with your friends on Facebook.
Scroll Below To Read More Top Stories From Mynewsfeednow